How the Buccaneers can solve their QB problem this offseason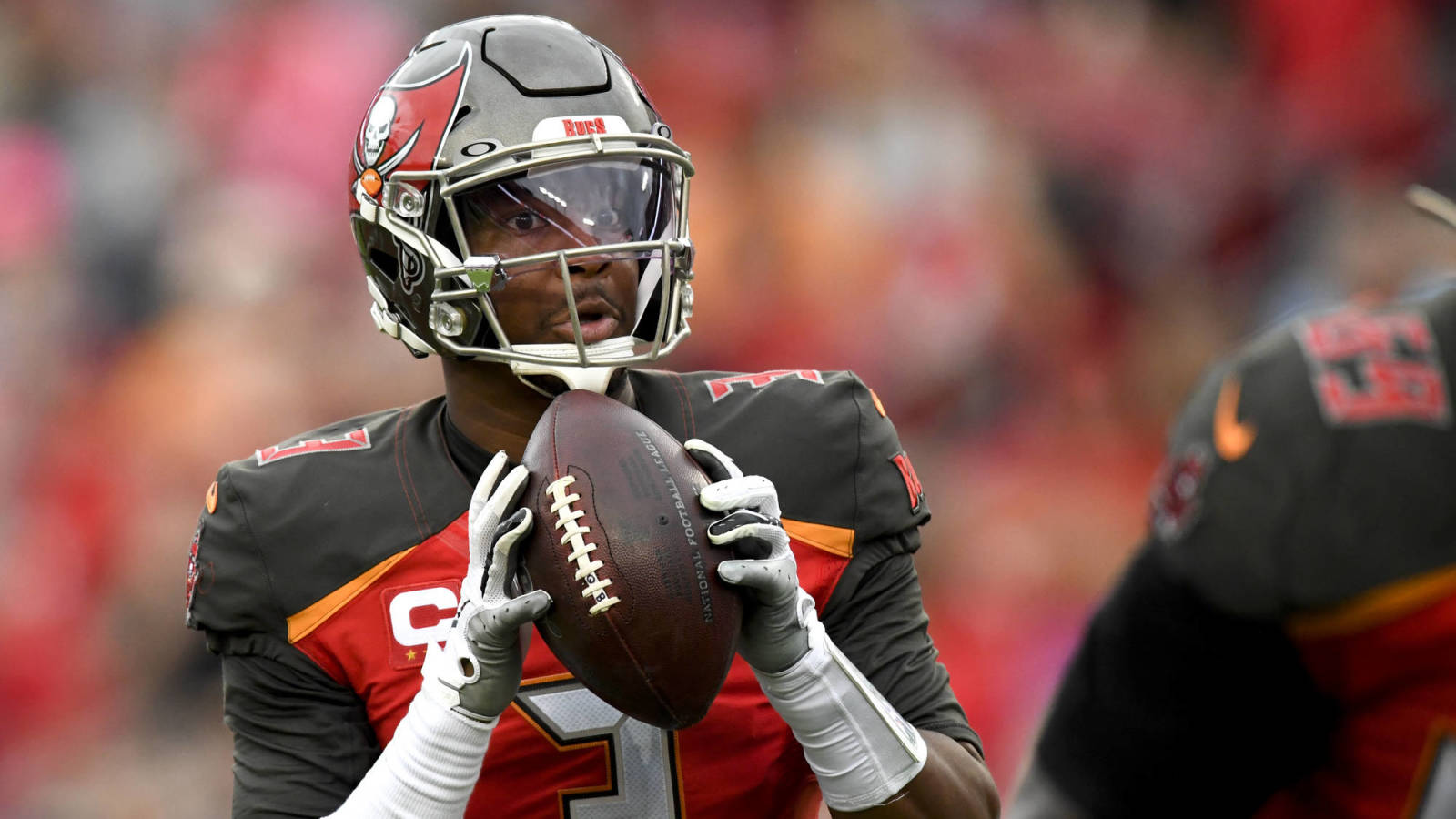 The Tampa Bay Buccaneers were an enigma during the 2019 season. While the Buccaneers finished with a 7-9 record, the entire season was a roller coaster ride that was designed and operated by quarterback Jameis Winston.
If Tampa Bay wants to avoid putting its fans through another season like that, it must solve its quarterback problem this offseason.
The skinny: From the outside, Tampa Bay's offense ranking first in passing yards (302.8) and third in points (28.6) per game might indicate the offense is fine.
However, the Buccaneers also had the fourth-worst bad-throw rate (20.7%) and posted the worst turnover rate (20.7%) in the NFL.
Tampa Bay's offense displayed potency during the season and Bruce Arians' scheme is a treat to watch. As Tampa Bay's front office prepares for the offseason, though, it knows that it needs more consistency at quarterback in 2020.
Oh, Jameis: Winston's season ended on a fitting note. It's also the moment that might have sealed his fate with his head coach, especially given Arians' willingness to rip his quarterback to shreds.
We've seen what Winston can be capable of in his peak form. Few quarterbacks can make the kinds of breathtaking throws we saw from him during stretches of the 2019 season.
Winston posted a 95.8 quarterback rating in September with 1,167 passing yards, a 62.6% completion rate and a 9-5 TD-INT ratio.
He finished the season with three games in which he threw four-plus touchdowns and he threw for 350-plus yards in six starts.
Winston became the eighth NFL player in history to hit the 5,000-yard mark in a season.
In games the Buccaneers won, Winston had a 66.4% completion rate, 103.6 quarterback rating and posted a 17-9 TD-INT ratio.
There's the other side of the Winston experience, too. For all of the nice throws and gaudy offensive numbers, he was a turnover machine that hurt his team more than he helped it.
Winston's accuracy was an eyesore. He posted the lowest rate of on-target throws (69.9%) and led the NFL in bad throws (124), per Pro Football Reference.
He could never be trusted in the fourth quarter when the game was close. In those situations, he posted a 58.4% completion rate with a 63.3 quarterback rating and a 1-5 TD-INT ratio.
Winston led the NFL in interceptions (30), interception rate (4.8%) and seemingly threw a game-opening interception in nearly every game this season, especially December.
Across Tampa Bay's nine losses, he posted a 16-21 TD-INT ratio with a 70.3 quarterback rating and a 56.6% completion rate.
Winston is a Rorschach test. Some NFL teams and coaches see the upside and believe he could become a great quarterback with the right help. Others see the disastrous turnovers and view him as a player that a playoff-caliber team can't trust in any crucial moment.
The Buccaneers can't afford to take that kind of gamble at quarterback next season. Once Winston is in this team's rearview mirror, it can assess whether it wants to find a short- or long-term solution at quarterback this offseason.
The short-term options: Because of needs on the offensive line and defense, Tampa Bay must commit its resources either to a top veteran quarterback or to a rookie. If the goal is contending immediately, the Buccaneers will have options.
Tom Brady: Brady is the complete opposite of Winston. Whereas Winston launched rockets downfield and made bone-headed decisions, Brady will execute the short throws, take what the defense gives him and rarely make a mistake. He'd get to play with a loaded cast of pass-catchers and Arians could tailor his offense to fit the future Hall of Famer's skills. Brady as a Buc would be incredible, but it's also unlikely.
Philip Rivers: Rivers' family just moved to Florida and the Buccaneers are the hot name to land him. It would be a fascinating fit for the 38-year-old quarterback in an offense that can still bring the most out of him. Rivers is a year removed from posting a 32-12 TD-INT ratio, but he struggled in 2019 with 23 interceptions. Arians' offense would have a much higher floor with Rivers in 2020, but its ceiling wouldn't be as high.
Matthew Stafford: If there's a chance Stafford can be acquired this offseason, the Buccaneers must explore it. While durability is a concern, Stafford is an excellent quarterback when healthy. He was playing at an All-Pro level before his season-ending back injury and would fit perfectly in Arians' offense. He's also under contract for the next three seasons. Sadly, Detroit likely keeps him given the cap hit it would suffer if he is traded.
Cam Newton: Superman could save the day in Tampa Bay. Newton will be looking to prove himself next season, especially with the Panthers looking to trade him, after a Lisfranc injury sidelined him in 2019. Newton is still a tremendously gifted quarterback when healthy. He can launch balls downfield, makes smart decisions and his mobility would add another dimension to this offense. He is the perfect quarterback to take the Buccaneers to the next level. The Bucs would just need to convince Carolina to move him in the division.
The 2020 offseason is the perfect time for the Buccaneers to need a short-term solution at quarterback. All four options would be incredible upgrades for the Buccaneers and each of them could realistically be available.
If Tampa Bay is unable to land any of the top options, or it wants to focus on finding a long-term solution, there are a few more possibilities.
The long-term fixes: Realistically, the Buccaneers moving into the top-seven picks to land a top quarterback prospect isn't an option as the latest mock draft demonstrates.
The Miami Dolphins need a quarterback at No. 5 as do the Los Angeles Chargers with the sixth pick. In order to jump up to No. 4, the Buccaneers would need to sacrifice multiple top picks in 2020 and 2021. So, the front office must consider the secondary quarterback prospects.
Jordan Love – Love offers some of the most exciting physical tools in the draft. The 6-foot-4 quarterback carries a cannon on his shoulders with a quick release and excellent mobility. He can make all kinds of throws on the move and launch dimes even when pressured. He is a bit of a project, however. Arians must work closely with Love to help him learn the finer details of the game, like reading the field and diagnosing a defense. He wouldn't be ready immediately, but Love could be an excellent long-term option for the Bucs.
Jalen Hurts – Tampa Bay could move down in the draft and still take a quarterback. Dealing the 14th pick and a fourth-round selection for Miami's 26th and 39th overall picks is ideal. The Buccaneers could select Hurts, arguably the biggest sleeper in the draft, then use their second-round picks to strengthen the defense. Hurts might be a project, but he'd become a quarterback Arians can build his offense around to maximize his abilities.
Both of these quarterbacks might not be ready to start in Week 1. Tampa Bay could look into Marcus Mariota, Case Keenum or even Winston on a one-year deal, buying time for the rookie to develop. Hurts or Love can compete with the veteran in training camp and then potentially step in if they struggle.
Bottom Line:
The Buccaneers simply can't afford to invest in Winston as their trusted quarterback for another season. While it's understandable to give him some consideration as a stop-gap solution, in the scenario we presented, he can't be the only addition.
Tampa Bay is potentially a 10-win team if they upgrade at quarterback. A team that lost six one-score games this past season could realistically become a contender if they just find the right quarterback.
There are no excuses available for general manager Jason Licht this offseason. Arians' offense needs an answer at quarterback and there are plenty of options available. Whether it's a short-term fix to contend or a long-term solution, the Bucs must solve their quarterback problem.
Published at Fri, 31 Jan 2020 15:00:00 +0000
Source: How the Buccaneers can solve their QB problem this offseason.
---