Finding landing spots for MLB stars on the trade block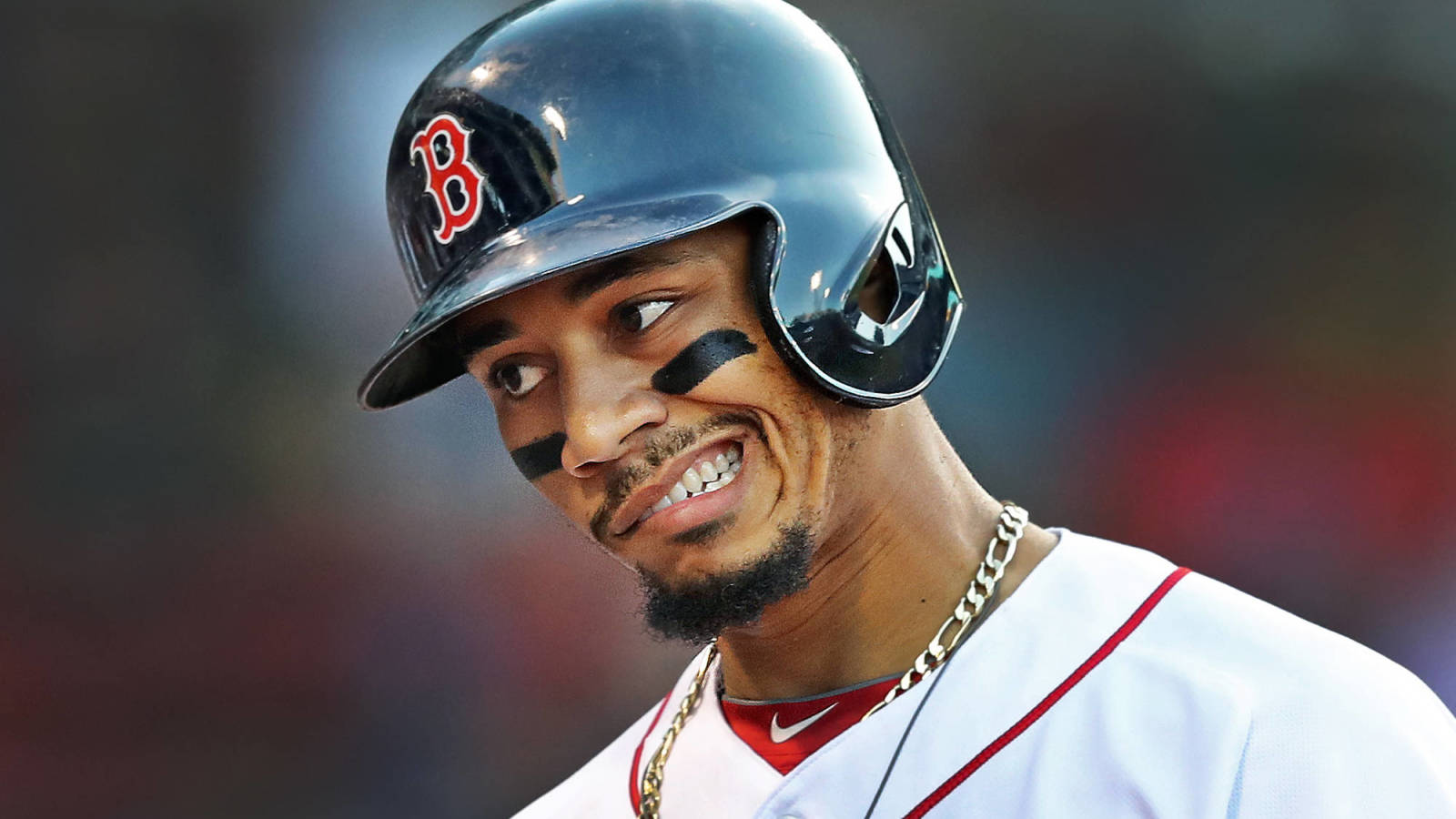 MLB's annual November general manager meetings commenced this week in Phoenix, and several big names are undoubtedly being bantered about in the desert. The GM meetings serve as a place for front offices to discuss with each other their goals for the winter and assess whether they can agree on certain deals. Much of the groundwork for blockbuster transactions is laid here, with deals often ultimately coming together during next month's winter meetings. Let's take a peek at 10 prominent players who may be traded this offseason and examine potential landing spots for them.
1. Mookie Betts, OF Boston Red Sox
It sounds absolutely crazy that the Red Sox would even consider moving the 2018 AL MVP, but early indications are they are very much interested in exploring the possibility. First and foremost, he's entering the final season of his contract, and Boston clearly doesn't want to watch him walk next winter without any compensation. Betts also hasn't exactly portrayed himself as someone who is hell-bent on remaining in New England; he turned down a monster contract extension offer from the Red Sox in March. New Sox GM Chaim Bloom certainly does not have to move Betts, but he'll listen to any and all offers. If he is traded, believe it or not the New York Mets would make a world of sense.
Mets GM Brodie Van Wagenen has his club firmly in a win-now mode, and after trading away several highly ranked prospects in the last 12 months, he's left himself with almost no choice but to continue to double down. Atop his wish list this winter is a right-handed hitter who can defensively play center field better than Michael Conforto and Brandon Nimmo — allowing the two former Mets first-round picks to patrol the corners. Betts certainly checks both of those boxes. And the crazy thing is that acquiring Betts would not cost New York as much as you'd think. Both Dominic Smith and J.D. Davis are high-upside young hitters who did a lot of good things for the Mets last season. But both are blocked by other players and don't have an obvious path to consistent at-bats in 2020. Smith in particular would be of interest to the Red Sox, as Michael Chavis currently sits atop their first base depth chart, and it isn't even his natural position. The left-handed hitting Smith would at minimum make a terrific platoon partner and more than likely become Boston's regular at the position sooner rather than later. New York's system has been dramatically gutted over the past year, but middle infield prospects Andres Gimenez and Ronny Mauricio are both well thought of league wide and could be viewed as long-term second base answers in Boston. Without the guarantee of an extension with Betts' new team, Boston's expected return would not be as massive as it could have been a year ago, and there's enough here for the two sides to make a deal if they wanted to. An added extra element here is that Bloom interviewed for the Mets GM job last winter and was narrowly edged by Van Wagenen. A trade of this magnitude would forever link them even more.
Mets get: OF Mookie Betts
Red Sox get: 1B Dominic Smith, SS Andres Gimenez, P Thomas Szapucki, IF Shervyen Newton
2. Kris Bryant, 3B Chicago Cubs
A Bryant trade on the surface doesn't make as much sense as one involving Betts, but there are a couple of reasons one could actually transpire. The 2016 NL MVP has not matched that level of production since, though to be fair the recently completed '19 campaign was reasonably close. Most noteworthy is the fact that he and agent Scott Boras are currently in the midst of a lengthy grievance against the Cubs regarding the manipulation of his service time. Chicago famously held him in the minor leagues for the first few weeks of his rookie season to delay his free agency and arbitration salary raises a full season. In this case the player does have a legitimate gripe, but basically taking your employer to court would seem unwise for the long-term health of the relationship. After Theo Epstein outwardly said the Cubs need some changes and that it will be difficult to keep their core together moving forward, the idea of a Bryant trade gained more traction. If one happens, keep an eye on the Atlanta Braves.
Last winter the Braves inked veteran slugger Josh Donaldson to a one-year pact to help the injury-prone former MVP regain some value and provide a dangerous right-handed bat in the process. The dating period went well, but the arrangement was never likely to evolve into a long-term marriage. With Donaldson likely leaving as a free-agent , the Braves will be left with a massive hole in their lineup and one that young Austin Riley would not be able to amicably fill if he ends up at the hot corner every day. Dealing with Atlanta, a team the Cubs could potentially compete with for a playoff spot, would be a tough pill for Epstein to swallow, but the strength of the Atlanta farm system makes the possibility too tempting to pass up. Atlanta is loaded, particularly on the mound, and Riley has enough offensive upside for the Cubs to be patient with him especially if they are going to use 2020 to retool. A trade like this could make sense.
Braves get: 3B Kris Bryant
Cubs get: 3B/LF Austin Riley, SP Kyle Wright, SP Ian Anderson, C Shea Langeliers
3. Francisco Lindor, SS Cleveland Indians
Lindor is one of the most likable players in all of baseball, but there have been a lot of indications that he'll be taking his award-winning smile to a city not named Cleveland in 2020. The Indians have consistently been good but not good enough in the American League the last few years, and they're not going to be passing the Yankees or Astros on paper anytime soon. Operating in a smaller market doesn't provide them with the means to outspend the more high-profile clubs on the Junior Circuit, yet they are currently facing a serious dilemma. Is it worth keeping their talented core together to chase fool's gold, or does it make more sense to take two steps back, reset and try to become the next dominant team in baseball? The Red Sox expecting a limited market for Betts with only one year left of control serves as a cautionary tale here. The Tribe would likely do well for themselves by moving Lindor, who is set to become a free agent in two years. And the Dodgers would certainly jump at the opportunity to acquire him.
Los Angeles has grown beyond frustrated at the inability to capture even one championship out of its incredible recent run of dominance in the National League, and the Dodgers are desperate enough to do whatever necessary to get over the top. Second baseman Gavin Lux may well be the favorite for Rookie of the Year in 2020, and starter Dustin May showed flashes of brilliance as a rookie in '19, but both would certainly have to head to Ohio to get Lindor to SoCal. Moving Lux in particular would be difficult for the Dodgers to stomach, but acquiring Lindor would require an infield reshuffling, one that could push incumbent shortstop Corey Seager to the right of second base anyway. Taking an Indians/Dodgers trade a step further, Cleveland could explore the idea of essentially conceding the division to Minnesota for the foreseeable future, but setting itself up incredibly well long term. If Cleveland could convince L.A. to take all of his salary, the inclusion of ace righty Corey Kluber would go a long way toward making L.A. the super team it wants to be and would allow the Tribe to absolutely gut Los Angeles' farm system. Just for fun.
Dodgers get: SS Francisco Lindor, SP Corey Kluber
Indians get: SP Dustin May, 2B Gavin Lux, C Keibert Ruiz, SS Jeter Downs, OF D.J. Peters, SP Robinson Ortiz
4. Starling Marte, CF Pittsburgh Pirates
Despite what the Pirates tried to project by recently picking up his options, Marte is almost guaranteed to be traded. He's entering the final year of his contract and coming off the best season of his career. The Pirates are unlikely to seriously compete in the NL Central for some time, and capitalizing on Marte right now is a move they essentially have to make. The issue the Pirates are going to run into here is that they're basically selling a Toyota, while Boston is selling a Cadillac. Marte and Mookie Betts both hit right-handed and play strong defense at the same position, and both have only a year remaining on their deals. The same rival teams are going to be in both derbys, but Betts is almost definitely going to have to be traded first, with the teams that miss out then turning to Marte. The market should be robust, but after a long drawn-out process I see Marte not even leaving the state of Pennsylvania.
The Philadelphia Phillies went all in last winter, acquiring Bryce Harper, J.T. Realmuto, Jean Segura and David Robertson among others, and after watching the Braves win their division and the Nationals win the World Series, Philly is going to be motivated to catch its rivals in the East. Adding Marte would bring a proven commodity to center field at Citizens Bank Park, which would represent a dramatic upgrade over the likes of current position eight candidates Adam Haseley and Scott Kingery. A trade like this could make sense.
Phillies get: CF Starling Marte
Pirates get: OF Mickey Moniak, P Cole Irvin, P Dominic Pipkin
5. Chris Archer, SP Pittsburgh Pirates
Speaking of the Bucs, Archer, whose options the team also picked up recently, seems like another Pirate likely to call another city home in 2020. The former Tampa Bay ace was acquired in a trade a couple of years ago, and the deal has not gone Pittsburgh's way. The Pirates sent pitcher Tyler Glasnow and outfielder Austin Meadows to the Rays, both of whom have emerged into key pieces there, while Archer has regressed mightily in the black and gold. For a Pirates team that has almost no choice but to attempt a serious reboot if not a full rebuild, cutting its losses on Archer represents a no-brainer. A team like the Mariners, in need of a starting pitcher, could be the club to give Archer a fresh start.
Longtime Mariners ace and former Cy Young winner Felix Hernandez has thrown his last pitch in the Pacific Northwest, and Seattle has long liked to bring in players with recognizable names. General manager Jerry Dipoto has developed a reputation as the most judicious trade maker in the sport, and acquiring someone like Archer could help him in two different ways: boosting his own team in the immediate future, and potentially rebuilding his own trade value for a potential further swap down the line. Speedy Mallex Smith could fill an immediate hole in center field, as the Bucs are more likely than not to also trade Marte.
Mariners get: SP Chris Archer
Pirates get: CF Mallex Smith
6. Matt Boyd, SP Detroit Tigers
Boyd's presence on the trade market is difficult to read. The young lefty was well on his way to a breakout season in Detroit last year, but he completely faded down the stretch. His ERA was almost two full runs higher after the All-Star break than it was before, and from that token it would appear that if the Tigers are actually serious about trading him, they should have done it at the deadline last summer. They say they're open to any offers right now though, and it's hard to blame them. The Tigers were one of the worst teams in baseball last season, and they're unlikely to be much better in 2020. So who would be interested in Boyd? Despite his rocky finish to 2019, just about everybody. There aren't many clubs that wouldn't at minimum be intrigued by a high-upside young southpaw with multiple years of team control. The Phillies are firmly in the market for multiple rotation additions this winter, and the availability of Boyd should get their attention.
To pry Boyd from Motown, an acquiring team reportedly will need to part with one close-to-MLB-ready position player and another high-upside pitching prospect, even one in the lower levels of the minor leagues as the Tigers don't mind playing the long game here. The Phillies could satisfy that with outfielder Nick Williams as the headliner, a left-handed swinger who would have been the team's everyday right fielder had they not signed Harper. Outside of Aaron Nola, the Phils rotation was a major cause for concern last season and the primary reason they failed to make the playoffs. They would pull the trigger on this deal.
Phillies get: SP Matt Boyd
Tigers get: OF Nick Williams, SP David Parkinson, P Kevin Gowdy
7. Kirby Yates, RP, San Diego Padres
Yates will be 33 on opening day next spring, but his age is not going to prevent just about every closer-needy team in baseball from ringing the Padres front office. Since arriving in San Diego, the Hawaii native has simply been unhittable, and he's coming off a downright historic campaign. In 60 appearances he nailed down 41/44 save chances while pitching to a 1.19 ERA with an 0.89 WHIP. There simply won't be a better closer available, and while the Padres have ideas of competing and don't have to trade him, with Yates in a contract year it would behoove them long term to capitalize on his value. The Boston Red Sox, who failed to live up to expectations or even to earn an opportunity to defend their title in October, represent the most obvious landing spot.
The lack of a real closer to replace the departed Craig Kimbrel hurt mightily in their quest to repeat as World Series champs, and the Red Sox went on to have one of the worst bullpens in recent memory. If Boston is going to get back to competing with New York and Houston in the heavyweight class of the American League, it is going to have to upgrade the relief corps. The Sox have the pieces to bring Yates to New England, and it's something they'll simply have to consider.
Red Sox get: RP Kirby Yates
Padres get: SP Jay Groome, SP Thad Ward, OF Nick Decker, SP Kyle Hart
8. Robbie Ray, SP, Arizona Diamondbacks
The D-backs flirted seriously with trading Ray at the deadline last July but ultimately failed to find a trade to their liking. They shouldn't have the same problem this winter. In-season trades are more difficult because interested teams are limited to those in the race, but right now just about every club could justify pursuing a left-hander of Ray's caliber as they attempt to assemble their 2020 rotations. Last season Ray worked to a 4.34 ERA in 33 starts while striking out an eye-opening 235 hitters in 174.1 innings. He has one year remaining on his contract, and if the Diamondbacks want, they should be able to find a trade partner — potentially in the Bronx.
The Yankees are understandably going to swim in the deep end of the free-agent starting pitching pool, with righties Gerrit Cole, Stephen Strasburg and Zack Wheeler all on their radar. But with New York needing potentially two new starters on a team with high aspirations, it wouldn't be stunning to see the Yanks place a call to a Phoenix area code. Arizona will not be able to ask for the moon for a pitcher with one year of control and a career ERA over 4.00, but Ray has enough upside to justify a flier. And a fresh start in a new city could be the type of opportunity he needs.
Yankees get: SP Robby Ray
Diamondbacks get: SP Nick Nelson, OF Canaan Smith
9. Jeff Samardzija, SP San Francisco Giants
Samardzija is owed almost $20 million in 2020 in the last season of his contract, but thanks to a strong '19 campaign, if the Giants are willing to eat even a small portion of that they should be able to get out from under the majority of that commitment. That seems like a smart play for a San Francisco team that is likely to watch both Madison Bumgarner and Will Smith depart as free agents, and the offensive core of Buster Posey, Brandon Belt and Brandon Crawford is just not what it used to be. The Giants have frustratingly been staring up at their archrivals from L.A. in the NL West for the better part of a half decade, and with an up and coming club in San Diego, the Giants ceiling is looking like third in their division. A full rebuild appears necessary, and if that's the route they choose to pursue trading Samardzija would help. A handful of clubs would make sense as potential suitors, including Philadelphia.
The Phillies will pursue any and all opportunities to upgrade their rotation, and while he wouldn't be their first choice, circling back to Samardzija could be something that happens late in the offseason. This connection gained even more traction when San Francisco recently hired former Phillies manager Gabe Kapler. A deal like this could satisfy both front offices.
Phillies get: SP Jeff Samardzija, cash
Giants get: SP Nick Pivetta, IF Nick Maton
10. Cesar Hernandez, 2B, Philadelphia Phillies
The Phillies are the most prominent team in this article, and it's no secret why. From the owner to the GM to new manager Joe Girardi, this is an organization desperate for success in 2020. Philadelphia's fourth-place finish in the NL East in 2019 was beyond disappointing and the team assuredly is going to be looking for ways to creatively improve this winter. With several new faces making their way to the City of Brotherly Love — potentially even ridiculously high-priced ones like some of the elite free agent starting pitchers — it's possible the Phillies are going to have to move just a little bit of salary to make it all work. The switch-hitting Hernandez is a useful table setter, but he's entering the final year of his contract and is due $11.8 million in 2020. The Phillies have an available replacement in utility man Scott Kingery, who is a natural second baseman, and they should have little trouble finding a trading partner for Hernandez should they make him available. Somewhat surprisingly, the Detroit Tigers stand out as the most logical fit.
In Detroit, Josh Harrison, Jordy Mercer and Gordon Beckham all are departing as free agents, and the Tigers are going to need some infield help. Acquiring a player of Hernandez's caliber could accomplish a few different things. For starters it would dramatically improve their ability to field a reasonably competitive everyday lineup for the short term. Hernandez would also give the Tigers a strong trade chip in July, as contenders would love to add someone with speed and some pop down the stretch. Detroit will not trade minor league prospects to facilitate this though. Instead the Tigers will attempt to shed as much salary as the Phillies are comfortable taking back to offset the money a little. A deal like this could work for them, but again, the Phillies only do this if the move is in conjunction with other trades or signings.
Tigers get: 2B Cesar Hernandez
Phillies get: P Daniel Norris, IF Dawel Lugo
Published at Thu, 14 Nov 2019 16:49:00 +0000
Source: Finding landing spots for MLB stars on the trade block.
---