Forecasting the outcome for each NFL Week 6 game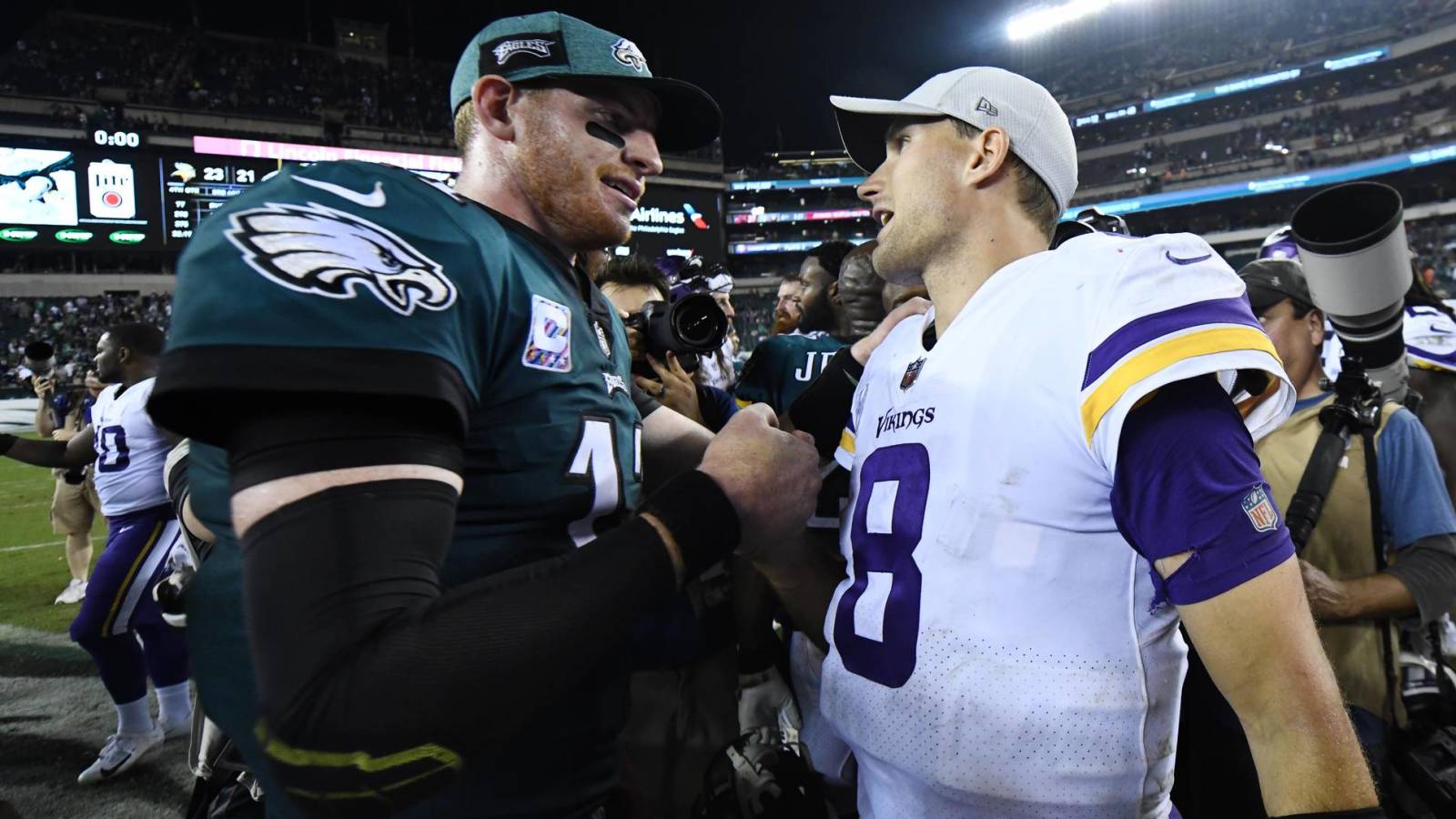 Fall is in full swing. If you're fortunate enough to live in an area where leaves change, get out and enjoy the colors for a few minutes this weekend.
Last week: 6-9, which is not nice. 43-36 for the season forecast.
All lines are from BetOnline as of 7:40 a.m. on 10/10
Thursday night
New York Giants at New England Patriots (-16.5): We've been treated with a couple of fantastic Thursday night games in the last two weeks. This one snaps the string. Bill Belichick taking on a rookie QB minus pretty much any weapon even the hardcore Giants fans have heard of will resemble "When Animals Attack" more than football.
Patriots 39, Giants 16
Sunday Games
Houston Texans at Kansas City Chiefs (-4.5): How do the Chiefs rebound from two lackluster performances from Patrick Mahomes and the dynamic offense, including last week's loss? Mahomes is hobbled a bit, too. But the more pertinent question might be how the Chiefs defense slows down a Texans offense that put up 53 on Atlanta last week.
Alas, the Texans are inconsistent on offense. Will Fuller erupted for over 200 yards and three TDs last week, but that eclipsed his season total through the first four weeks. Houston is one of the few teams capable of winning a shootout with the Chiefs. However, the Texans can be too slow to reload on the fly in the heat of battle. Should be a fun game to watch no matter who wins.
Chiefs 36, Texans 33
San Francisco 49ers at Los Angeles Rams (-3): The reeling Rams get a chance to salvage their sinking season if they can knock off the unbeaten 49ers. The Rams going completely overboard on the pass-heavy offense is a bad strategy against Nick Bosa, DeForest "don't call me Brenston" Buckner and a well-heeled and diverse 49ers defensive front.
Losing Clay Matthews on defense with his latest injury (the dart landed on broken jaw this time) means the Rams have even less firepower to ease the pressure off Aaron Donald. Even with Matthews on the edge, the Rams are not capitalizing on the extra attention paid to the Defensive Player of the Year. 49ers coach Kyle Shanahan can scheme up an attack with the best of 'em, and I trust he'll find ways to sizzle the home defense.
49ers 30, Rams 27
Carolina Panthers at Tampa Bay Buccaneers (+2): Kyle Allen isn't getting enough attention for his skillful relief of Cam Newton at QB in Carolina. He's been poised, accurate and careful. But the way to beat the Buccaneers defense is to take shots down the field. It worked for the Saints and Teddy Bridgewater, who is normally risk-averse as a QB. If Allen gets time — and that's no given with Shaq Barrett leading the league in sacks for the Bucs — he will have options to exploit down the field.
Panthers 28, Buccaneers 24
Philadelphia Eagles at Minnesota Vikings (-3): Stupid stat No.1 that has entirely too much influence over my thoughts on this game: The Eagles are 5-1 in Week 6 over the last six seasons. Stupid stat No. 2: Kirk Cousins is historically very good against the Eagles. In eight career starts against Philly, Cousins has thrown 17 TDs (his most against any team by five total), a QB rating over 101 and also has his most career rushing yards versus any team.
Something's got to give between those two conflicting thoughts waging a war inside my head. I'll give the benefit of the doubt to the Vikings and their defense at home.
Vikings 27, Eagles 21
New Orleans Saints at Jacksonville Jaguars (-1.5): I smell the upset of Minshew Magic here. The Jaguars have been oddly bad at home in early starts, losing 10 of their last 12, including five they were favored to win. The Saints have a solid defense and a game-breaking talent in Alvin Kamara who can make things happen even if the Jaguars — who should get Jalen Ramsey back this week — bottle up Bridgewater and Michael Thomas. Saints have enough paths to victory to find a way in Jacksonville.
Saints 23, Jaguars 21
Dallas Cowboys at New York Jets (+7): I suspect the line on this game would have been well over double digits had the Cowboys not lost to the Packers on national television on Sunday. It still should be, methinks; the Jets don't have the horses on defense to do what the Packers did to Dallas and Dak Prescott. I don't believe Prescott will be so off in New York. I also don't think the Cowboys defense will feel so threatened by Sam Darnold's return with arguably the NFL's weakest pass-catching crew.
Cowboys 32, Jets 10
Pittsburgh Steelers at Los Angeles Chargers (-6.5): Pop quiz, hotshot: Name the Steelers depth chart at QB for this game with Ben Roethlisberger on IR and Mason Rudolph concussed.
Chargers 27, Steelers 6
Cincinnati Bengals at Baltimore Ravens (-12): The Bengals head to Baltimore looking for their first win after five losses in a row. I head to the forecast trying to not type "Blatimore" for the sixth time in a row. At least I can edit my mistakes. No such quick fix for the Cincinnati brain trust. Good week to use the Ravens in survivor fantasy games if you haven't already.
Ravens 34, Bengals 17
Seattle Seahawks at Cleveland Browns (+1.5): Which Browns team shows up? The one that blew out the Ravens in Baltimore should win this game, even with the Seahawks coming off a Thursday night extended break and the Browns cramming after a "MNF" appearance. The Browns team we watched in San Francisco won't stand a chance against MVP front-runner Russell Wilson. If the rest time were fair, I'd lean toward the Browns here at home. It's not, and it's real hard to trust rookie coach Freddie Kitchens to get his team past the adversity against Pete Carroll's Seahawks.
Seahawks 27, Browns 20
Washington at Miami Dolphins (+3.5): How bad are the Dolphins? They're 3.5-point underdogs at home against a winless Washington team that just fired its coach and plays roulette with its QBs week-by-week. It's a damn shame one of these teams has to win. Then again, the loser should wind up with the higher draft pick, and the fans of that team will probably value that more than a pointless win in a pointless season.
Dolphins 20, Washington 17
Atlanta Falcons at Arizona Cardinals (+2.5): The Falcons are too talented to fall to 1-5. If they do lose to the one-win Cardinals, Dan Quinn deserves to be fired and forced to take the bus back home to Atlanta. The fans in Atlanta get to vent their frustration at a Cardinals franchise, albeit not the one they'd like this week…
Falcons 30, Cardinals 25
Tennessee Titans at Denver Broncos (-2): In meteorological terms, the Titans are a tropical depression spinning out at sea. If a sudden dip in the trade winds pushes them over hot water, they're apt to become a dangerous hurricane and rain all over Denver. But they might just stay stagnant and eventually collapse in upon itself, floating away as a cloudy mass that drops a little drizzle on Bermuda in a few days.
Broncos 21, Titans 20
Monday Night
Detroit Lions at Green Bay Packers (-4): Detroit hasn't lost to Green Bay in over 1,000 days. The Lions have won three of the last four in Green Bay, and the one they lost they came back from a 31-3 deficit to lose 34-27. When last they met, Aaron Rodgers tapped out of the 31-0 shutout by Detroit. The Lions are coming off an extended bye week, getting an extra day of rest and rehab with this game on Monday night. The Packers could be without top wide receiver Davante Adams, and even if he plays it's hard to see him being close to 100 percent. Lions coach Matt Patricia has shown teams in successive seasons how to slow down the Rams and now the Chiefs; with extra time to prepare, I expect him to stymie Rodgers and the Packers too.
Everything points to the Lions being the smart pick here. It's time for the Lions to prove they're ready to win games like this. It's time for the officials to stop helping the Packers get wins in games like this, too.
Pro tip: Watch this game with the TV on mute and find the radio coverage. If you can finagle the Lions radio feed, Dan Miller is the best play-by-play guy in the business. You'll want to hear his call when the officials wrongly overturn a pass interference call to set up the Packers for a game-winning field goal…which Mason Crosby misses but gets another shot at because the Lions get penalized for lining up in the neutral zone even though clearly nobody is guilty.
Packers 27, Lions 25
Published at Thu, 10 Oct 2019 19:29:15 +0000
Source: Forecasting the outcome for each NFL Week 6 game.
---