Rays expected to activate slugger Austin Meadows on Friday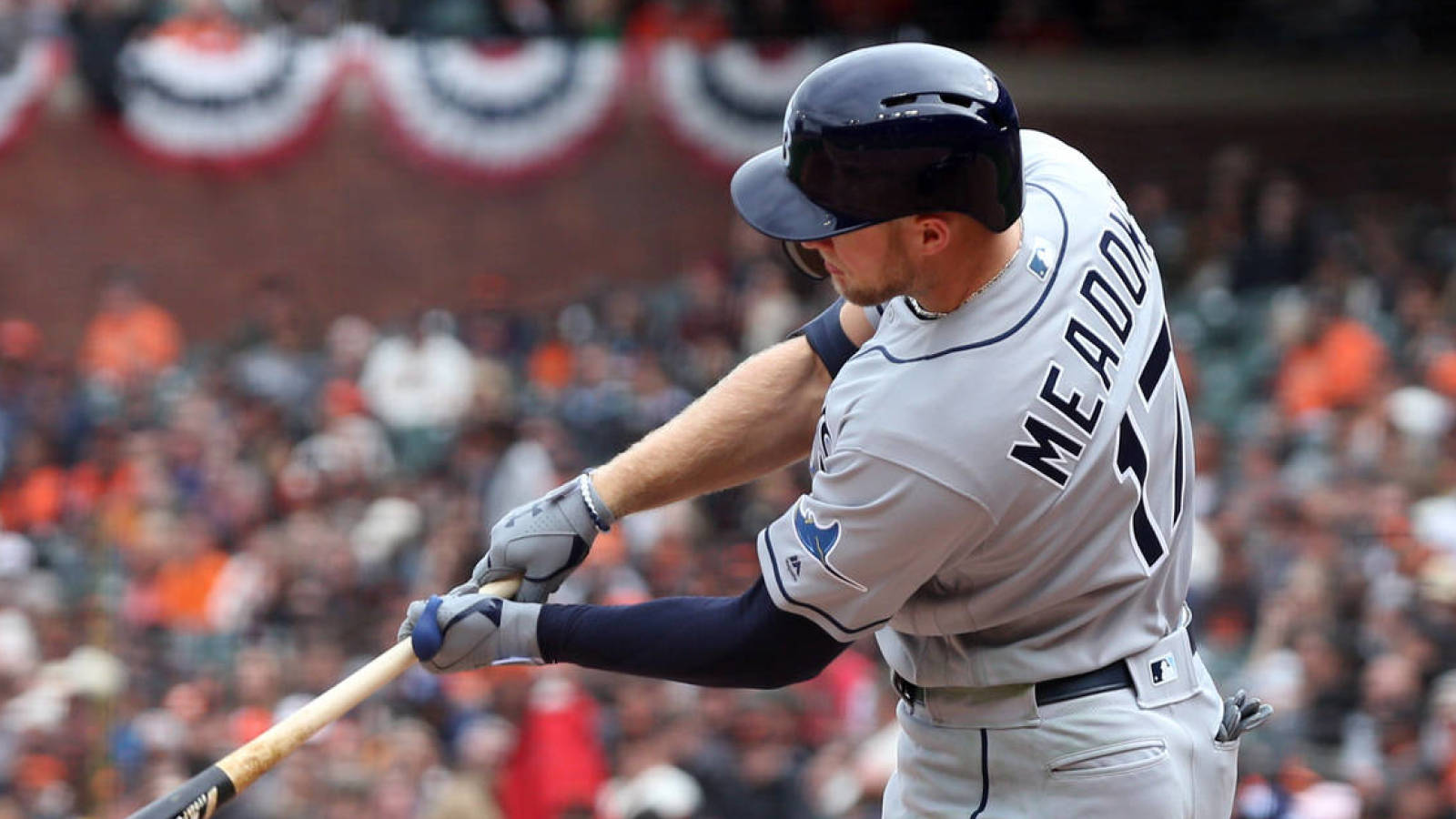 Rays outfielder Austin Meadows is expected to be activated from the 10-day IL prior to Tampa's game with the Yankees on Friday, reports Marc Topkin of the Tampa Bay Times.
Meadows will take the 25-man roster spot left open by first baseman Nate Lowe as the Rays sent the highly touted youngster to Triple A following Thursday's game.
Meadows hit the injured list on April 21 due to a sprained right thumb, so his return will fall just short of the projected timeline of "a few weeks" laid out by Rays GM Erik Neander. It's good news for the Rays, since Meadows' hot start was a huge reason for Tampa's early season success. Meadows was hitting .351/.422/.676 with six homers over 83 plate appearances at the time of his injury. While some regression is inevitable (.400 BABIP, .454 wOBA compared to a .408 xwOBA), it isn't out of the question that a former top prospect like Meadows could be a big contributor in his first full major-league season.
With Meadows back, Lowe's first taste of big league action will come to an end after nine games and a .257/.289/.314 slash line over 38 plate appearances. It was perhaps a little surprising to see Tampa promote Lowe so soon, though the 23-year-old had been ripping up Triple-A pitching and the Rays had a need for another bat with Meadows and Joey Wendle on the IL. Rather than keep Lowe in the majors as a bench player, the club will send him back to Triple A, where he can get everyday at-bats and continue his development.
In terms of service time, Lowe's clock stopped almost as soon as it started, so it's hard to determine the impact on his future team control. While it stands to reason Lowe will be back in the majors at some point in 2019, the Rays already control him through at least the 2025 season. The team might not bring him back until it can ensure he won't be a Super Two candidate. (Of course, this could all be moot if Lowe becomes the latest Rays prospect to sign an early career extension, a la Brandon Lowe, Matt Moore, or Evan Longoria.)
Lowe has played only first base and DH in his young career, making him an imperfect fit at this point on a Rays roster that values multi-positional versatility. Lowe's first base duties will again likely be split between Ji-Man Choi and Yandy Diaz, though Diaz has seen an time at third base in recent days due to Daniel Robertson's struggles.
Brandon Lowe could also see some time at first base, with Robertson or Andrew Velazquez filling in at second.
Published at Fri, 10 May 2019 01:53:08 +0000
Source: Rays expected to activate slugger Austin Meadows on Friday.
---